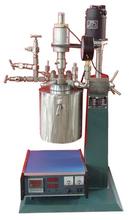 Add to Favorites
Share
Laboratory Autoclave
Payment

Origin

China Mainland

Minimum Order

1

Packing

Pieces
Product Detail
Electromagnetic high-pressure reactor system

Fastening of the new structure:

Flange fastening structure of reactor in the past began to prepare for each test period, the reactor all bolts to be completely unscrewed, add good reaction after the required turn screw on and tighten in again. Open kettle of the tree screws and sealing process need to be turned more than 10 laps each reaction vessel has more than one bolt, test time and effort in the process.

Lock ring quickly fastening structure in the second half. Compared with the traditional institutions, test at a time when you need to open the kettle, simply screw unscrew 1 turn left and you can easily remove lock ring from the side, quickly open the reactor.



5
YRS
AIA Technology Co., Ltd
China
Favorites